Lazy News:

14. 06. 11 - The LAZY live im Volkstheater 20.00 Uhr

25. 03. 11 - The LAZY live im Rationaltheater 20.00 Uhr

14. 12. 08 - BATTLE OF THE BANDS in der Glockenbachwerkstatt / München: !!!THE LAZY vs LEFT!!!

26. 4. 08 - THE LAZY UNPLUGGED: ein gemütliches Unplugged- Konzert für gute Freunde im Resonanz- Schallplattenladen, Auenstraße 4


GLEN MEADMORE feat. THE LAZY:
THE LAZY begleiten Glen Meadmore auf seiner Europa- Tour als Vor- und Backingband!



*GLEN MEADMORE feat. THE LAZY Tourdaten:*

*12. 2. 2008 20:00 Rhiz, Wien

*13. 2. 2008 20:15 Postgarage, Graz

*14. 2. 2008 20:00 JO, Ottensheim

*15. 2. 2008 20:00 Bertholdsaal/Frikulum, Weyer

*16. 2. 2008 20:00 Stromboli, Hall, Tirol

*19. 2. 2008 20:30 Rote Sonne, München

*20. 2. 2008 20:00 Sonderbar, Feldkirch, Vorarlberg

*21. 2. 2008 20:00 United Club, Torino

*22. 2. 2008 20:00 Bus del colvera, Pordenone

*23. 2. 2008 20:00 Condorito Club, Cuneo



07.02.08 - München, Registratur
THE LAZY spielen als Vorgruppe von HOLIDAY FUN CLUB!

05.01.08 - Augsburg Musikkantine
Durch geschickte Manipulation erreichen the lazy das Zentrum.

22.12.07 - Bodensatz-Fest
wir freuen uns auf einen unglaublichen Abend mit unserem zweiten lieblings Label im Kafe Kult.


04.08.07 - The LAZY at the "DreiTageZusammen"-

Festival at Bichl an der Glonn. How to get there? we don't know!


05.07.07 - The LAZY live: club2 presents:

the lazy at the ROTE SONNE / Munich. Be there at 21 o'clock!


25.05.07 - LAZY Play live in Czech Republic.

Summerfestival "30"
great stage - greate fire - great atmosphere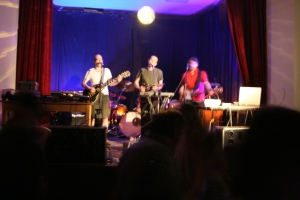 07.03.07 - The Lazy released "LAZY IN RED" in Japan.

You can receive it via Sausage Records (www.starboze.net)!


21.01.07 - The Lazy play at the SUBSTANZ, MUNICH,

featuring the ADVENTURE CLUB!!! Be there at 8 o'clock!


19.12.06 - theLazy have signed their first record deal.

and sausage records (Japan) is the winner.



09.10.2006 - Und nebenan im Bachbett

vielleicht ab 11.00 Uhr



08.10.2006 - thelazy sitzen in der Tinte

Diesmal in der Glockenbachwerkstatt ab 8.00 Uhr


LAZY TIME at the Orange House,
Munich on 26.11.06

Everyone better come and see this.
We'll open the show for

Urlaub in Polen


02.2006 - THE LAZY on Sperm Festival

The Sperm Festival will gather the latest and best musicians and

media artist from the East and West.

In contrast to the Notwist

<CLICK> and the Bomb Mitte Soundsystem

<CLICK>

the Lazy won't represent Germany on the Sperm Festival <CLICK> in Prague,

cause there is no money for us from the Goethe Institut, but we'll be there anyway, he he.

Further artist from the West are Kid606 (US)

<CLICK>,

Jamie Lidell (UK)<CLICK>,

Rupert Huber (AT) from Tosca<CLICK>,

Radian (AT)<CLICK> and Digitonal (UK)

<CLICK>.

Many interesting acts from the east that want to hit your ears and eyes.


Key info:
Sperm Festival

25.02.2006

in Abaton <CLICK>

Prague, Czech Republic


01.2006 - ¤ L A Z Y L I V E I N P R A G U E ¤


Lazy are happy to announce the appearance at the sperm festival

25.02.2006 in Abaton in Prague, Czech Republik

Website to the festival: http://www.sperm.cz

come on over and see us rocking.


12.2005 - !!!the lazy play at the bodensatz festival!!!

17.12. KAFE KULT, Oberföhringer Straße 156, 19:00, 8 €

the munic bodensatzverlag (www.bodensatzverlag.de) invited the lazy to their

every year festival at the kafe kult, oberföhring.

together with other bands like GUMMO, HONIG, FM ZOMBIEMAUS, LOFI INFERNO,

MARTIN KREJCI, ARSCH MIT ORDEN and KARLECIK CZYBULKA,

the lazy will perform for half an hour (maybe 45 minutes) in the cafe at 23:30.

SEE YOU ALL THERE!


10.2005 -

----EXTRA----EXTRA----EXTRA----EXTRA----EXTRA----

can you believe this? the lazy have a new gig:

>>>>>>> 8. 10. 2005 PRAGER FRÜHLING: CONVERTIBLE supp: The Lazy <<<<<<<

Convertible is a new rockband from the austrian musician Hans Platzgumer

(HP Zinker, Die Goldenen Zitronen, Queen of Japan usw.) feat. the lazydrummer Thomas.

So thats maybe the reason why the lazy are the support-act for convertible this evening!?!

SEE YOU ALL THERE!!!


06.2005 - once again the members proofed that they are

very procrastinative. The concert, the fist ever live

concert is already weeks gone and still

no review or pictures available.



r_e_V_i_e_W:

in brief - it was a great evening and a very nice crowd!

thanks to all who come and joined the sofa style.



02.05.2005 - 27.05.2005: The moment all have been waiting for.

The Lazy will play in the Orange House, Munich


2005 - There it is: THE LAZY BAND! Ready to go on stage,

but only if there is not only a drumset, a bass, guitars, ukulele,

casio and, of corse, a laptop but also a couch.

But who wants to see them being lazy?


February 2004 - The Lazy people, some of them at

least, came together again in a town called Munich.

They did - nothing. And wrote some new songs.

Other people, who are also lazy,

stayed in Prague to expand the community of the lazy people.


Summer 2002 - The Lazy is finally

able to record their first album in London.

It was such a good time. And everybody was

so happy to see the lazy friends again.


before 2000 - Members of the lazy need to disappear.

They spread somewhere in Europe and pretend to have "normal" lives.


in the late 1990s - A group of strangers gathers

to take over a military airfield. At 80 minutes

before midnight they meet with their cars on a

lonley field path. It leads to the fields that surround

the airfield. After opening the fence into the prohibited

area a long cue of cars drives without lights right to the middle.

Instantly the equipment is built up. The audience not aware of

where they are going follow the cars on foot. The concert happens.

Red balloons rise on the horizont. Time to leave the place.

Nobody got hurt but many had great fun.